Countertops, cabinets, layouts, appliances and so much more are required to build a perfect kitchen design. Yes, there is a lot to consider to ensure the smooth functioning of your kitchen. Customizing the modular kitchen can be a little overwhelming task for the first-timers. There is no rule book made for the same but our experts at Guzel understand the amount of stress involved in this process. It is the reason why we are presenting you with this blog. Here you will be able to scroll through some of the basic yet vital points following which will make customizing your modular kitchen easy.
You will be finding the tips and tricks shared by the experts to ensure that the decisions you make for your kitchen design include every aspect within. The design should be trending, it must have all the elements needed and it should also suit your budget. Accessing all these qualities in their kitchen can be challenging for the first-timers, but not after the experts present their point of view on the significant kitchen components. 
Expert's suggestions: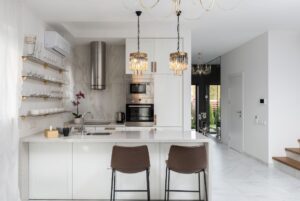 What are the maximum used elements within any kitchen? It's the refrigerator, sink, and stove and so this has given birth to the concept of the kitchen triangle which you can also follow when you think of building or renovating your modular kitchen. The kitchen triangle composes of these three essential elements of the kitchen and talks about the space between them and their specific layout. The placement and distance of these three elements will impact the use and design of your kitchen the most and so you must take this under consideration and ask the architect or the interior designer to use the concept of the kitchen triangle. Focusing on these three elements will save your time and will also help you in keeping track of your budget for your premium kitchen. 
After working on the kitchen triangle elements you must understand the other vital elements that are required within any modular kitchen. While imaging your dream kitchen what are the parts that you wish to have within? It includes pre-made cabinets along with some of its internal parts. The cabinets are made with different materials and are of different types such as floor cabinets which work as the surface for the rests, wall cabinets that are used for storage overhead, and so on. You need to understand and match the use of these cabinets along with the material they are made of and the budget that you have for your required modular kitchen design.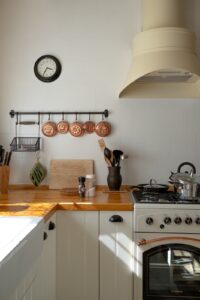 Color coordination is a point that is often missed by you. Color plays a vital role in setting the tone of the kitchen. You must not forget that kitchen is a place that you will be using daily and you need it for the long run so the components attached to it must be chosen by keeping this in mind. You can always choose the combination of two colors and avoid using an all-white kitchen theme as it demands constant hard-end cleaning for maintaining the kitchen. You can also make sure that the color you choose for your kitchen should go well with the overall home decor that you choose. 
Designing and maintaining the best kitchen appliances is vital but not more than considering safety. Yes, the kitchen is the place where you use the electrical appliances combined with heating elements so, keeping safety in mind is really important. The gas piping that you choose should be safe when curved at the countertop or any other edges. The floor that you choose must be slip-resistant, and the appliances used in the kitchen should be close to their switchboard, etc. Yes, all of this can be done even when you are planning your customized kitchen within budget. All you need to do is to make the right decision based on the expert suggestions.
Another major element that you must include while you prepare the budget list for your modular kitchen is ventilation. Cooking is an activity that generates a lot of heat and smoke which can be managed through a chimney or exhaust fan or sometimes even both. But if you do have enough space for attaching chimneys or exhaust fans then you can always choose to build the kitchen near a window or balcony area to allow the fresh air to come in and vent out the cooking smoke and remove any foul smell that is left after cooking. So always remember ventilation is the key to a fresh kitchen.
Before making any customization decision for your kitchen you need to look back at the appliances and utensils that you already own. It is a vital step as it will help you in choosing the best storage options. There should be enough space for the utensils and appliances that you own and for the ones that you might be planning to buy. The storage ideas generally involve built-in cabinets but if you need more and do not wish to exceed the budget then you can always choose to fix the floating shelves on your kitchen walls.
Guzel is Trustworthy
Are you satisfied with these tips, we hope you received some of the crucial ideas to set up your modular kitchen. Always remember, these are just the basics; there is a lot more left to unfold when you think of your dream kitchen. The experts at Guzel will make this journey of yours easy. You will be provided with the ideas suiting your pocket and style. No worries will be left on your shoulder when you think about quality in your kitchen. It is because Guzel is trusted by the top brands such as Hafele, Blum, Bosch, and others. With us, you can dream for your customized kitchen option starting from 5 lakhs. 
Designing and installing the components within your modular kitchen is something basic that we provide. Additional to this you will be getting expert ideas that will enhance your point of view toward your kitchen. Now don't wait or hesitate, just click on https://www.guzelconcepts.com/ and take a step toward your dream modular kitchen.