Homes today are all about added luxury and convenience. Similar to this, every homemaker needs a lovely, well-designed kitchen space. Since every Indian housewife spends most of her time in the kitchen preparing wholesome meals for her family, having a well-organized kitchen would make her responsibilities more manageable and more efficient. Therefore, modular kitchens in Delhi NCR are now a need.
All kitchen sizes and areas can be accommodated by fantastic designs in modular kitchens, providing efficient storage space and stunning aesthetics. Everyone dreams of having one of those attractive modular kitchen designs.
Reasons behind Modular Kitchens' Popularity
There are numerous possibilities for modular kitchen designs and accessories to fit every financial and functional need. Your ability to keep your kitchen supplies organized and operate more effectively throughout the day can both be considerably enhanced by a well-designed modular kitchen.
Making your kitchen more suited to your needs is simple
Pre-made cabinet elements in the Latest Modular Kitchen Designs in Delhi can be quickly put together to create a unique design that fits the available space. There are straight modular kitchen designs, parallel modular kitchen designs, L or U-shaped kitchens, island kitchen layouts, and even compact modular kitchen designs to satisfy all types of kitchen space designing needs of the homemaker. With these designs, one may have their kitchen created for the best style and functionality based on the square footage.
Systematic Space Allocation
A methodical allocation of your storage space is possible thanks to the several cabinets of varied sizes that make up modular kitchens. One can order cabinets created explicitly for their kitchen's nooks, corners, and space requirements for storage. Utilizing every crevice of your kitchen to increase storage capacity is more straightforward with such custom cabinets. It allows for significant space savings and makes it simple to keep your kitchen tidy and organized. Therefore, modular kitchen designs can be a good fit whether a kitchen is large, tiny, or in between.
Add style to your interior
For its upscale appearance, the modular kitchen in Delhi is well-known. Today's modular kitchens are undeniably appealing thanks to modern kitchen additions like splash backs, pegboards, pull-outs, lift-ups, tandem drawers, larder units, and glossy finishes. Modular kitchen accessories can be skillfully put together to create a design for your kitchen that is aesthetically pleasing and functionally adequate. Additionally, you may choose from a wide variety of colors to paint the interior of your kitchen in an attractive and easy hue on the eyes.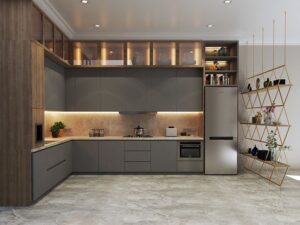 Create Your Kitchen Within Your Budget Limits
The most excellent part about luxury kitchen designs in Delhi is that they can be customized to fit a person's unique demands while staying within their budget. The best part is that you can find various possibilities based on the required price range, allowing you to select your kitchen accessories and style by your financial constraints. There are several material options, color options, design options, and cabinet type options for different financial needs. You can get the most glamorous kitchen design and accessories for your kitchen space while staying within your budget with the assistance of experts from Guzel Concepts.
Simple to Maintain & Assemble
One of the most exceptional aspects of a modular kitchen is that it is constructed from prefabricated parts that can be quickly put together and taken apart as needed. Therefore, if you move frequently and must constantly move to different locations, this style makes it simpler to fit out your kitchen in the new space. Additionally, because separate cabinets are located throughout, you can easily maintain or repair a cabinet without disturbing the overall structure. As a result, the modular kitchen in Delhi makes upkeep much simpler.
In conclusion, we can argue that kitchens can be better constructed with modular designs for maximum storage, functionality, and appeal. Thanks to the Luxury Kitchen Designs in Delhi, you can easily create your kitchen according to your needs, available space, and financial condition. These make it easier for everyone to maintain their kitchens and provide relaxing environments to work in without feeling bored and tired. Therefore, it is clear why modular kitchens are so well-liked by everyone.