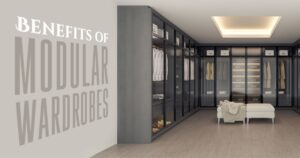 This world is moving forward, and so is technology. Technology has made its way into our homes with the advent of modular interior designs. Modular designs aim at utilizing the space in a way that will not let the user compromise in any way. A modular wardrobe has become an important part of the renovation process nowadays and paved the way for a style that's sophisticated in every sense. Modular wardrobes don't discriminate against size and can take a luxury shape in any space according to your ideas. Modular wardrobes being space-friendly don't make the room look stuffy and forcibly put together. 
Modular wardrobes have transformed the face of organizing space and things; let's delve into the exemplary benefits they pose.
Space friendly
It's a misconception that modular wardrobes can become part of only big mansions and houses but that's not the case at all. Small spaces can also be turned into spectacular realities with the beautiful wardrobe design in Delhi available at Guzel concepts. 
No Burden On Pockets And Time
You may save a tone of time and money by using a modular wardrobe. It will be prepared for installation once you make an appointment with a design professional. Additionally, because you do not need to organize deals with numerous interior experts, you save a lot of time. Your "Dream Wardrobe" only needs one meeting with your design expertise to be ready. The experts at Guzel concepts will help you choose from the best modular wardrobe designs in Delhi.
Customization: Give Life To Your Dream Wardrobes 
You reduce the likelihood of purchasing anything you won't use by choosing the most trendy and breathtaking module for your wardrobe. Customization is typically pricey, but with modular wardrobes, you can select exactly what you envisioned.
Moving Made Easier
You can't take your non-modular wardrobe with you, but modular wardrobes can be disassembled or reassembled in a different location, saving you the money you would have spent on a new wardrobe.
Balance With Overall Home Decor
You can effectively design your décor using a modular wardrobe that will complement the other elements of your room. To give your space the ultimate opulent aesthetic, you can pick from a variety of styles, colors, and materials at Guzel concepts.
You can either attach the wardrobe to your room or give separate space to it. The decision depends on you, and we will make sure to bring to life the imagination that you once thought would never see the light of life.