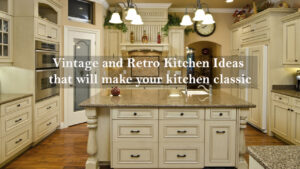 It is crucial to feel joyful and content while mixing ingredients to produce a delicious supper. Vintage kitchens have never and will never go out of style. There is a growing interest in all things vintage and retro in the world of interior design. What better place to indulge in its timeless charm than in your kitchen? Vintage kitchen styles generate feelings of warmth, nostalgia, and timelessness, and can transform your kitchen into a compelling retreat. Let's look at some great ideas for infusing vintage and retro aesthetics into your kitchen.
Colors that Set the Mood:
When it comes to vintage and retro kitchen designs, colors play a vital role. Go for soft pastel hues like mint green, baby blue, pale pink, or buttery yellow for a classic 1950s vibe. If you prefer a more dramatic look, consider bold colors like vibrant red, royal blue, or emerald green which were popular in the 1960s and '70s. Remember, the key is to create a warm and inviting atmosphere.
Retro Appliances and Fixtures:
Integrating retro-style appliances can instantly transport your kitchen back in time. Look for refurbished or reproduction appliances that mimic the look of vintage models. From retro refrigerators and stoves with rounded edges to charming toasters and mixers, these appliances add a touch of authenticity. Consider installing a farmhouse sink or a vintage-style faucet to complete the look.
Vintage-Inspired Backsplash and Flooring:
Choosing the right backsplash and flooring can make a significant impact on your kitchen's overall retro aesthetic. Subway tiles, mosaic patterns, or checkered designs in muted or contrasting colors are ideal choices for a vintage appeal. For flooring, linoleum or checkerboard tiles can effortlessly recreate the retro vibe. Alternatively, hardwood floors with vintage-inspired rugs can also add a cozy touch.
Open Shelving and Display:
Display your collection of vintage dishware, glassware, and retro kitchen utensils. Seek out thrift stores or online marketplaces for unique finds that can instantly add character and charm to your space. Adding a vintage-inspired clock, wall art, or old-fashioned signage can further enhance the retro ambience.
Furniture and Seating:
When it comes to furniture, go for vintage or retro-inspired pieces. Look for chrome-legged tables with Formica tops, vinyl-upholstered chairs, or even a quaint breakfast nook with a built-in bench. Vintage bar stools, if you have a counter or an island, can be an excellent addition. Remember, comfort is key, so ensure that your seating choices provide a cozy and inviting atmosphere.
Vintage Lighting Fixtures:
To complete your vintage kitchen, pay attention to the lighting. Look for retro-style pendant lights, chandeliers, or sconces that complement the overall theme. Metal or glass fixtures with intricate designs or colorful shades can add an authentic vintage touch while illuminating your space.
Conclusion:
Bringing vintage and retro elements into your kitchen is a wonderful way to create a space that exudes timeless charm and nostalgia. By carefully selecting colors, incorporating retro appliances, and adding vintage-inspired touches throughout, you can transform your kitchen into a captivating haven that harkens back to a bygone era. So, let your imagination go wild and begin on a trip to build a kitchen that transcends time and greets you with warmth and style.