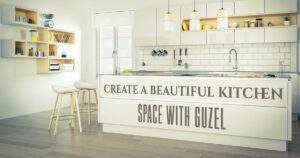 The kitchen is the heart of every home and everyone belongs in the kitchen because the kitchen has food. As the heart of the home, it deserves great attention. Make your kitchen meet the modular setups that are available at Guzel concepts and watch the unbreakable chemistry unfold before you. Set your kitchen up with the best Latest Modular Kitchen Designs in Delhi and show it how much you care for it.
When kitchen meets modular installments magic happens
When you choose and install luxurious combinations from the Latest Modular Kitchen Designs in Delhi, you not only choose beauty but efficiency as well. Guzel concepts weave every idea thoughtfully with their experts and ensure that only the most promising outcomes come out on the table. One of the most crucial points that sets Guzel concepts apart is that they are at the top when it comes to choosing the most trusted Blum distributors in Delhi.  
The idea behind an Indian modular kitchen is built on space customization and efficiency. Cabinets, drawers, cupboards, and shelves combine to create an integrated system in the modular kitchen interiors. Modular kitchens not only give you the gift of easy access but effortlessly make space for the excess goods that you possess without giving your kitchen a crowded appearance. 
A beautiful kitchen can attract even the laziest kid in your home. The European Concepts Modular Kitchen offered by Guzel concepts projects such ethereal beauty that holds the power to enchant every onlooker. The aura of any space affects the person living there too; the different and unique styles of Modular Kitchen in Delhi can amplify the overall mood of the person working in the kitchen for the best and you can find that in the aroma of the food. 
Just like a healthy mind lives in a healthy body, in the same way, good food and good mood are cooked in a kitchen that possesses beauty, efficiency, and soothing energy; you will find all these in the Luxury Kitchen Designs in Delhi available at Guzel Concepts.