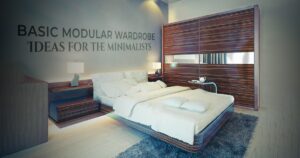 The wardrobe is essential to every home as it houses important things like clothing, ornaments and stuff. We have come a long way and with the advent of modular wardrobes in the market; storing things has become much easier and more fun. Though there are different types of wardrobe styles in the market, some people like to stick to the basics; this fact can never change that basic is beautiful. Guzel concepts has the Best Modular Wardrobe Designs in Delhi that ranges from basic to complex ones. 
Let's discuss the basic wardrobe styles that are minimal yet hold the power to impact the onlooker. 
Sliding Modular Wardrobe 
Sliding door wardrobes move horizontally on metal tracks that are fastened to the top and bottom of the closet, as the name suggests. Since these doors don't open out and simply slide sideways, they provide a lot of space. They are appropriate for one wall. The ones whose doors open out can sometimes end up hurting you if you forget to close them; with sliding doors that won't happen ever again. You can find Sliding wardrobe design in Delhi at Guzel Concepts. 
Hinged Modular Wardrobe 
The shutter is hinged to the carcass of the closet in this most popular style of wardrobe. A traditional option, hinged or swing doors can be made in the layout's L-, triangular, or pentagonal shapes. When compared to sliding wardrobes, hinged wardrobes are also less expensive and easier to install. The most significant benefit of hinged wardrobe designs is access. The full wardrobe can be seen at once by swinging open hinged doors. Larger, bulkier clothes can be stored conveniently in the closet. You can find Hinged Luxury Wardrobes Designs in Delhi at Guzel concepts. 
Walk-in closet
Larger homes and apartments are increasingly favouring walk-in closets. When you need to get dressed but other people are around, you need a little extra privacy. In those circumstances, you can simply shut the door to a walk-in closet and use it as a private space. Since a walk-in closet has significantly more room, you can organise your belongings into groups rather than trying to jam everything in at once. 
Why choose Guzel Concepts for modular wardrobe solutions? 
Guzel concepts has a plethora of Latest Modular Wardrobe Designs in Delhi that are up to date and can add an ethereal charm to your interior. Visit our website to learn more about wardrobes or visit our showroom to experience the touch of mesmerizing beauty.