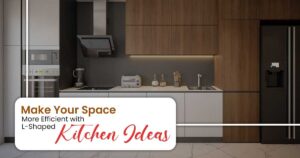 For today's contemporary home interiors, L-shaped kitchens are the most efficient in terms of storage space and decoration equally. You spend a significant amount of time in the kitchen and so, an intelligent decoration with the right placement of all kitchen ingredients is essential. The kitchen arrangement should be in a way that encourages flexibility along with free movement.
Besides, the kitchen style being practical, it's important to focus on the aesthetic appeal too. This is why homeowners love L-shaped Kitchens that are space-saving and make their kitchens more useful. This is how you can decorate your L-shaped kitchen while placing something useful there.
Include a kitchen island:
When upgrading your kitchen with an L-shaped modular kitchen design, nothing would be much more appropriate than a Kitchen Island for your kitchen makeover. It fosters an array of activities while offering enough space for food preparation. The kitchen islands is of much importance that functions as a table for preparing meals and post cooking can be used as table serving and for decoration purposes. 
You can go for customized modular kitchens in Delhi NCR options also to make the most out of your space. Take into consideration the following this too when planning about placing your kitchen island.
The position:
Place your kitchen island in a way that encourages free and hasslefree movement all around its sides. Ensure that the furniture is kept close or in the center to the key activity zones in your kitchen, such as your stove, fridge, and sink.
Food preparation:
The height of your kitchen islands should be chosen in a way that it makes you feel comfortable while kneading dough or doing other works that need you to put downward force.
Go for the latest modular kitchen designs in Delhi with Kitchen islands designed with cabinets and counters to solve all your storage issues while adding beauty to your L-shaped kitchen. These days, the top brands and companies offer an array of customization options that also allow you to dine along with food preparation.
Break up the layouts:
It's important to find out all the hidden space in your kitchen and turn it into useful places. All this depends on how big the kitchen area is and what purposes you want to use the space other than cooking. For instance, some families use the kitchen space for socializing and dining while others use the space only for working there. Irrespective of what your purpose is, find the best layout that helps you use the space in a wise and accurate manner.
The L-shaped kitchen consists of two adjoining portions; the one is dedicated to minor kitchen tasks, consisting of a sink, appliances, and countertops. The other end of your kitchen is for time-intensive work, while the space remains for your refrigerator and additional storage options. Look out for a kitchen layout that allows you to cook freely, enjoying free movements in your kitchen area.
Paint Kitchen Cabinets that Showcase Colour Trends:
A kitchen isn't just a place for cooking but also a place that entertains you and your guests. When it comes to aesthetics, you just can't compromise on the color trends of cabinets that add to the visual appeal to your decoration.
You can go for two complementary colors for detailing cabinets and islands. Likewise, even for the surfaces, you can use one of the two colors. To go bold and different, you can use the third color for decorating the spaces for upholstery and accessories.
L-shaped modular kitchen designs in Delhi are great for experimenting with color trends. 
Balance your storage:
Balance your kitchen storage, depending on how you'll use the space. Shelves and cabinets can prove to be great internal storage options. Get cabinets painted in the same color as the walls, to give a visual illusion of a wider kitchen space. 
Conclusions:
Your L-shaped kitchen is a versatile option and can be decorated beautifully. To get your L-shaped modular kitchens in Delhi NCR, contact Guzel Concepts today.