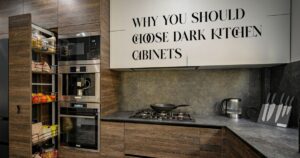 There is no denying the fact that the colour of kitchen cabinets is a prime factor affecting a home's value, overall ambiance, and even how often a homeowner has to clean. Are you also the one who is tempted to go with dark kitchen cabinets for your Latest modular kitchen designs in Delhi? If yes, here are a few reasons to convince you to embrace the dark side.
Should you go for dark and dramatic, or light and bright? When choosing your kitchen units, it can be hard to decide. So here we bring to you some interesting tips to help make up your mind. Let's explore some of the benefits of going to the dark side.
Add some ambiance
If you're someone looking for a kitchen that's both contemporary and cozy, dark kitchen cabinets could be the way to go. Inky surfaces look elegant and help to close in the space slightly while letting you feel snug.
Stay assured that a dark cabinet will look welcoming while offering a cozy kitchen atmosphere.
 Style it up
To add some instant shots of sophistication, dark cabinetry makes a perfect pick. Moody colours lend a sober, grown-up feel making your space feel unimaginably chic. To enhance the black architectural features beautifully make use of brass handles that will aid in bringing out the richness of the charcoal hue.
Hide scratches, dings, and stains easily
If your modular kitchen in Delhi is busy and has good footfall, dark cabinets may be the perfect choice for them. For homeowners with children and pets, and for those who cook to entertain extensively, dark colours kitchen cabinets will aid in concealing daily wear and tear better than white cabinets.
All kitchens are prone to wear and tear, but some show it less than others. A dark kitchen is undoubtedly a good choice if you think your cabinets are used to frequent spillages and knocks.
A dark surface won't instantly show up scuffs and stains. Also, if you are painting your cabinets, ensure you do a few coats, so the dark undersurfaces hide any scratches in the top coat.
Contrast with white
If you're going for a white worktop, the best idea is to contrast it with a dark shade to get the most striking effect. 
The designers always embraced the light-dark contrast, mixing white walls with dark grey/brown/black features to create a monochrome space. To warm the whole thing up, get a wooden floor and some soft foliage for added texture and warmth.
So, now that you know how dark kitchen cabinets can benefit, it's time that you transform what starts as a bland, conventional kitchen into a vibrant and inviting room, a space where your friends and family will eagerly gather.
Perfect for large kitchens
If you have lighter-toned cabinets in a large kitchen, then it is sure to look and feel institutional and dull. Dark cabinets will not only warm up the room but even allow you as a homeowner to bring in a variety of different decor and accent pieces for an eclectic look. Contrasting lighting, flooring, and bright art pieces will add pops of color to coordinate with the darker hues.
Embrace luxury
Sombre colours look eye-captivating especially with metallic finishes such as brass and copper. The dark-toned units beautifully complement them, letting the two surfaces wonderfully balance each other to give your kitchen a feeling of understated luxury.
Final Takeaway
While grey, black, and walnut cabinets are some of the very first choices that come to mind when people think of dark cabinets, the choice of dark colors is much broader. No further doubts in claiming that the sky's the limit when it comes to dark paint and stain colors. Guzel Concepts has been manufacturing high-quality dark-coloured Modular Kitchens in Delhi NCR to transform your kitchens to look the best and leave a lasting impression on one and all.