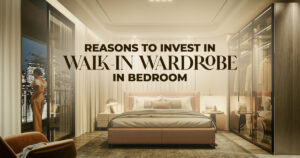 Many of us have too much clothing and end up struggling to find what we want in cluttered and messy closets. A walk-in wardrobe in the bedroom can provide a solution to this problem by making it easy to find clothes and saving time. Additionally, investing in a walk-in wardrobe design in Delhi can also provide benefits such as keeping clothes wrinkle-free, preventing mold and mustiness, and providing extra storage space. Here are five reasons why it's worth investing in a walk-in wardrobe Interior Design in Delhi for your bedroom.
Practical
A walk-in Luxury Wardrobes Designs in Delhi offers a sense of organization and order, making the morning routine less stressful. It allows for easy access to favorite outfits and can include luxury extras such as a dressing room, laundry sorting area, and additional storage solutions. With more space, a walk-in wardrobe can also include features such as a bench for folding or ironing clothes, a makeup or dressing area with ambient lighting, and full-length mirrors. Not only does it improve the practicality of daily life, but it also can improve the appeal of the home, which can be beneficial if considering selling or renting the home in the future.
Helps Protect Clothes
A walk-in closet can protect your clothes by preventing the buildup of mold, mildew, and mustiness. This is because a well-designed walk-in closet allows for proper airflow, which prevents moisture from becoming trapped and causing damage to clothes. Additionally, a walk-in Latest Modular Wardrobe Designs in Delhi can also protect clothes from damage caused by steam from an ensuite bathroom by allowing the moisture to flow out of the closet and evaporate. Investing in a walk-in closet can help keep clothes fresher and in better condition, especially fabrics like leather which need to breathe. 
Cost-Effective
Many times, it's cheaper to install a small walk-in wardrobe than a built-in or regular style. It depends on the design, but the cost-saving benefit is that the closet has no doors or cabinets.
Wardrobes can be  expensive with their mirrors, hinges handles, and finishes. You might need less structural work for the installation of a walk-in since many are built into unused spaces such as beneath the stairs.
On the other hand, a built-in wardrobe installation may require a lot of structural work like extending the bedroom to accommodate it. Guzel Concept will ensure the flow and organization of the wardrobe is to your liking, to increase the value of your home.
Space Saving
Walk-in wardrobes don't take up space the way regular wardrobes do and it's mainly because no doors are opening out. A walk-in Wardrobe design in Delhi NCR  can also take up less space than built-ins or regular wardrobes with sliding doors or cabinets. The reason being they can use the irregular and unused area for anything else and so would be a waste of space.
A walk-in closet design can be any shape – square, L-shaped, or slanted – and doesn't have to comply with the shape of sliding or hinge doors. By choosing the right design, improve your space layout and transform it into an inviting, stylish, and comfortable retreat.
For the best walk-in Modular Designer Wardrobe In Delhi that can save you floor space in your home, get in touch with Guzel Concepts today and we'll be able to assist with all your modular wardrobe design and storage needs.