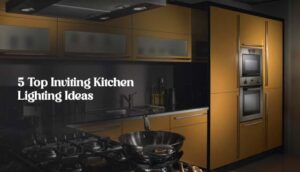 Do you struggle with poor natural lighting in your kitchen, leading to eye strain during meal preparation? This is a common problem, especially in small modular kitchen in Delhi kitchens with few windows. Fortunately, our experts have outlined the different types of kitchen lighting available to create a warm and inviting space.
General Lighting
recessed lights are essential for general lighting and can be used over task areas. They can be controlled by a dimmer switch, allowing you to adjust the brightness. Wall-mounted light fixtures are an alternative for those without a false ceiling. Install a fixture in the center or at opposite ends of the kitchen based on its size.
Pendant Lighting
Pendant lighting is a decorative element that adds style, color, and character to the kitchen. They are installed over the island or peninsula in twos or threes, and are available in various shapes, sizes, and materials. Pendant lights should hang 30-34 inches above the counter to avoid obstructions and require maintenance due to dust accumulation.
Task Lighting
Proper task lighting is essential in work areas of the kitchen, including countertops, islands, and peninsulas. Under-cabinet lighting fixtures and track lighting are popular task lighting options, with LED kitchen strip lights illuminating overhead storage. Ensure the internal wiring for task lights below upper cabinets is hidden, and test the placement before installation to avoid shadows. Install task lights above the sink for extra lighting during dishwashing.
Lights for Kitchen Cabinets
Cabinet lights provide easy visibility of cabinet contents, with the option of automatic switching on and off when cabinet shutters are opened and closed, similar to a refrigerator light. These lights are especially helpful for deep cabinets for kitchen interior design in Delhi. Install lights in all or selected cabinets, such as corner store. Proper planning during the design stage ensures easy internal wiring within the cabinet carcass.
Accent Lighting
To create a mood in a kitchen that's already well-lit for functionality, accent lighting is an excellent addition. This type of lighting can come in the form of cabinet lights, toe kick lights, or any other light that highlights specific elements in the kitchen. Accent lighting may overlap with ambient and task lighting. For instance, under-cabinet lighting can function as a task light or ambient light, creating a warm glow on your kitchen counters. Strip or bar lights that run along the bottom of your cabinets can achieve this effect.
To ensure a luxury kitchen design in Delhi, it's important to have a combination of different types of lights in appropriate layers, working harmoniously. The lights should provide sufficient illumination to carry out various tasks such as cooking, cleaning, entertaining guests, and dining without causing strain to the eyes. Moreover, the right lighting can create an appropriate ambiance, and dimmers can be used to achieve this while reducing energy costs.