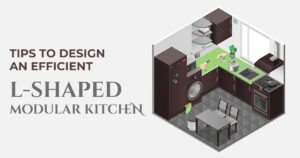 Homeowners today are drawn to L-shaped modular kitchens due to their elegance, practicality, and versatility. They efficiently utilize space, are convenient, and are easy to maintain, making them an attractive option. The kitchen should not only be functional but also a place where one enjoys cooking.
One important concept in kitchen design is the "working triangle," which refers to the distance between the sink, stove, and refrigerator – the three most frequently used areas in the kitchen. A well-designed modular kitchen in Delhi like an L-shaped kitchen layout helps minimize the distance between these spots to make cooking more efficient.
Regardless of the size of your kitchen, smart planning can help you make the most of the space. If you are remodeling your kitchen, take into consideration the tips below.
Designing an L-Shaped Modular Kitchen: Tips to Follow
 Before making a decision about renovating your L-shaped modular kitchen there are several factors to consider.
Take the Size into Account
While an L-shaped kitchen design is flexible, it's crucial to make sure your style fits with the available space. If you have a large area, consider incorporating a dining table or a peninsula counter. Likewise, if you have a small space like a condo or studio apartment, consider different design options.
Pick the Right Color Scheme
One popular idea is to paint the walls, cabinets, and countertops in three different colors. Ensure that the colors complement each other. Another option is to have a striking grey color for the cabinets and a wall-sized drawer, with white for the wall cabinets. An all-white L-shaped luxury kitchen design n Delhi is also a classic option, which can be paired with a beautifully patterned tile wall, a marine blue or wooden kitchen backsplash, or both.
Avoid Interrupting the Workspace
 Maximizing continuous preparation space is crucial in making the most of your available kitchen space. In an L-shaped kitchen, with only two walls open, it's important to not break up the surface with tall units, so place your refrigerator or pantry at the end. The cooking section in this kitchen only consists of a worktop and hob, providing ample space for food preparation. By placing the sink on one side and the refrigerator at the end, a convenient work triangle is created.
Maximize Corner Storage
The L-shaped kitchen interior design in Delhi will always result in a corner, but make the most out of available space. In this area, it's practical to provide accessible storage beneath the worktop as well. There are various fittings available for corner base units that rotate or pull out, such as a carousel, which allows you to stack items on curved shelves and easily access them with the swivel mechanism.
Brighten Up the Space
If more natural light is needed to brighten the room, consider adding discrete LED lights to your kitchen window. A basic set of minimalist LEDs will be enough to emphasize your workspace as L-shaped kitchen layouts are designed to reflect light. To highlight your countertop, place a gleaming cut-through light under the tall cabinets. When updating your kitchen lighting, consider the kitchen island and eating area. Hang two or three pendant lights over it to tie the room together.