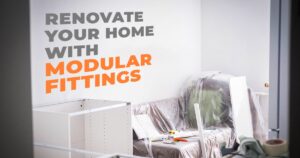 Looking to up your home interior game but uncertain about what to change to give your space an elevated look? Worry not, Guzel Concepts brings to you some modular fittings ideas that you are sure to fall in love with your home all over again. 
Modular Wardrobe
Out of so many modular home fittings, the modular wardrobe is an important one. It's that essential part of your house that needs to have utility value with enough space to keep items-both big and small. But when you think of wardrobe options, you need to ensure that it complements the overall interior design of your house. 
If we talk about today's modular wardrobe options, then the most important consideration to look for is the storage in these modular wardrobes. The market is full of modular wardrobe design  ideas that stylize the storage spaces in your home. Some options include walk-in wardrobes, sliding door wardrobes, free-standing wardrobes, hinged-door wardrobes, etc. With so many options to choose from, trust us, creating an enchanting wardrobe design for yourself will be very easy. And what's the best part of it all? You can get your designer wardrobe in Delhi customized and later use it as per your needs and requirements. 
If you have enough space at home and are looking for more space to keep your essentials, then it is recommended to go for walk-in closets. Be it anything, from bulky clothes to bags to shoes, everything will easily fit in a walk-in modular wardrobe design.
Modular Kitchen
Travel to any part of the world, and you'll definitely realize that food is central to your survival. When you plan to renovate your old kitchen, you are sure to treat the kitchen as a key area to be designed perfectly. And modular kitchens in Delhi aid just that — aiming to make it all increasingly simple and functional, so that you get the kitchen of your dreams that suits all your needs!
So, if you are still mulling over how a modular kitchen can benefit you, take a look here.
– It should be convenient and time-saving. This ultimately means that you should be able to source all important stuff easily. 
– Any modular kitchen will have contemporary aesthetics without a doubt. Its sleek design aesthetic is worth an investment and a big factor behind its popularity.
– They are decluttering and space-saving options. They are space-saving and can fit even in the smallest of apartments, converting the tiniest kitchen into an efficient one. 
– They must fit in the latest appliances that can take care of heat dissipation, ensuring that all the appliances work in the best of conditions. They aim to ensure a uniform contemporary aesthetic with visual decluttering.
Final Words
Not only the wardrobe and kitchen aspects, but when we talk about modular fittings, it even counts Modular TV units, designer wall panels in Delhi,  study, and bookshelves, etc. So, if you wish to revamp your home and get some built stunning modular kitchens in Delhi, types of wardrobes, and entertainment units, visit Guzel Concepts- your one-stop solution for interior things.