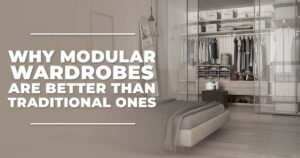 When you hear the word 'wardrobe', an old-style cupboard and almirahs made of metal or wooden come to mind. But with advancement in technology and shift toward the west, has led to new age demands from wardrobes that have significantly increased manifold.
Best Modular Wardrobe Designs in Delhi are designed to cater to your modern expectations. Talking further about modular wardrobes, let's discuss what makes them better than traditional ones. Also, you'll learn why you must opt for Modular Designer Wardrobe In Delhi which will help you organize all your stuff with ease and in a sophisticated manner.
One Stop Solution
Modular wardrobes by Guzel Concepts are your one-stop solution. From the aesthetically appealing designs that will leave everyone in awe to offering ample storage for anything and everything, you are sure to get them all.
Complements Your Interiors
Unlike traditional wardrobes that are a kind of mix and match with your interiors, modular built-in wardrobes are a part of the designing process. They sync with the room's interiors in terms of the colour scheme, design, and finishes. From walking wardrobes to free-standing wardrobes, the styles are just endless, so you can choose any depending upon your taste, personality, and what will complement your interiors the best.
Designed with Precision to Perfection
Modular wardrobes today offer a smooth and flawless finish without compromising on aesthetics. There are features like sliding doors that slide from side to side on metal tracks linked to the top and bottom of the wardrobe, rather than hinges.
Unlimited customization options
Customization will make any wardrobe truly yours and reflect your taste. Guzel Concepts offers you unlimited customization options in material, finish, design, style, carcass, and color. With traditionally made wardrobes, customization options are limited.
Ideal for Spaces with More Traffic
Modular wardrobes are space-saving and because of the swinging and sliding doors, they save the most room because they don't take up any of the space in front of them. Not only it prevents traffic flow but the modular wardrobe design is suitable for spaces that are small and constrained too.
No Noise & Privacy Interference
The Best Modular Wardrobe Designs in Delhi don't create any noise while opening and closing and don't interfere with your privacy. On the contrary, if you use traditional wardrobes made of metal, wood, hinges, then they may cause headache because of the noise of opening and closing & cause disturbance of privacy with work being done at home.
Premium Quality Raw Material & Hardware Used
Modular wardrobes are made with expertise in raw materials and hardware. Also, the raw materials and hardware are responsibly sourced. In contrast to traditional wardrobes, modular wardrobes are of top-notch quality. With locally made traditional wardrobes, you won't get any guarantee of what the material is and what its quality is.
Integrated Lighting Solutions
Lighting is another major that can make a wardrobe look luxe but is often missing when it comes to traditional wardrobe design. With traditional wardrobes, you'll have to rely on external light sources for illumination, especially on dull, cloudy mornings. But with walk-in or built-in wardrobes, you can get them designed with integrated light fixtures.
You can go for spotlights at the top of your wardrobe and for the shelving make use of LED strip lights. This way using the drawers and shelves to organize and find clothing and other accessories will become easier and help save a lot of time and energy.
To get your dream wardrobe that provides an abundance of storage for all of your clothes, shoes, and accessories, try the wardrobes from Guzel Concepts.