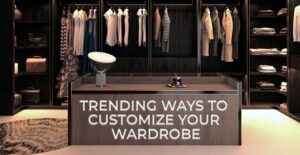 Will you ever settle for less? Certainly not, right? When talking about wardrobes, readymade ones don't actually cater to all the desired needs and requirements. So, it's advisable to better drop this idea of getting a readymade wardrobe. 
Once you know the exact space availability for your bedroom wardrobe or any wardrobe in your home, get a truly customized wardrobe matching your home interiors.
Let's take a close but quick look at some of these innovative ideas to help you design a unique closet that too one on a budget.
 Wardrobe with Attached Work Desk
Post-COVID Pandemic, work-from-home has become a norm and is sure to continue till the near future. So how about getting a little innovative, and planning a wardrobe design that utilizes the wall space. You can get the shelves and drawers done accordingly in your Wardrobe design in Delhi as a part of your desk.
Wardrobe with Display Shelves
How about getting a multipurpose wardrobe? Imagine getting a wardrobe in your room that can fulfill all your storage needs. Great, isn't it? Get a wardrobe that doubles as a showcase or credenza and a bookshelf. You can get the one with open shelving or sections of shelves with glass doors if your focus is more on display and your wardrobe can do magic for you which will save a lot of space.
Wardrobe with TV/Entertainment Unit
Most people worldwide prefer TV units in their bedrooms. It has become a wardrobe necessity. But in case you wish to get one because of a clean wall, then trust us you can get both together. Get it designed in a way that your storage gets organized around the TV area.
Great contemporary interiors are all about designing furniture pieces in a way that meets all your needs as per available resources and space.
Final Takeaway
When it comes to wardrobe designs, everyone has their own choice and preferences, based on space availability, design, budget, and more. Everyone has their own choice and preferences and if you too are planning to get one made for your place, get in touch with Designer Modular Wardrobe Manufacturer in Delhi– Guzel Concepts today.