Being an architect I have faced lots of challenges in my professional life. My profession has endorsed me to associate with various people who unveil their dream house and it's every petite component to me. And, it is my duty to make sure that they get to live in their desired casa with almost everything aligned perfectly.  So, let me ask you a simple question, which portion of your home summarizes your style and your personality better? 
Thinking about your wardrobe right? Well, wardrobes are a significant part of your lifestyle that behold your latest personal belonging as a trophy within them.  It is the reason why choosing a wardrobe that suits your bedroom styling and can be spacious enough for your belonging is very crucial. 
If you are someone who persistently keeps on upgrading your fashion and changing your style according to the ongoing trend then you will require a well-organised wardrobe. The looks and design of the wardrobe matter but it has to be practically fit for the storage space that you need. Here through this blog, let us discuss various trending designs, along with some tips and tricks that will help you in customizing your modular bedroom wardrobe smoothly.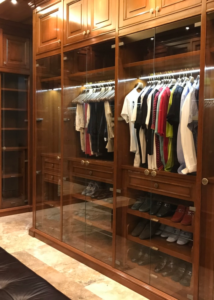 So let us start with a few vital tips that will help you think clearly about what kind of design you require for your wardrobe. 
Firstly you need to start with an inventory as it will help you calculate the space that you will be needing for your belongings. It will also help you to plan the space you require for storing, shelving, and hanging all your accessories.  
Secondly, before choosing any style you need to pay attention to the size that you need. With the help of our expert, you can always analyze the space in your bedroom and then can have an availability check. This is a really vital segment before you finalize any style for your wardrobe. Sliding wardrobes, walk-in, freestanding, or any other style can be discussed or customized when the size that is available is known to the stylists. 
Thirdly, the experts suggest that before you make up your mind about choosing any specific design for your luxurious wardrobe you must scan all the options. There are different styling option that also keeps changing with time and the latest fashion. You can always select your type as it is considered to be a big investment which you would be living with for a long run before another renovation. So, do not choose any pattern in a hurry. 
Tips to organize your walk-in wardrobe
One of the trendiest wardrobe styles of 2022 is the Walk-in wardrobe. There are different levels of sophistication and luxury is added to your bedroom when you have walk-in wardrobes. This elevation of style can also offer you ample storing capacity for your various belongings that too without exposing any of your racks and drawers.
Now, working with Guzel Concepts has given me the confidence to say that they can offer you the various styles of walk-in wardrobes that too customized according to your need or space and style. But here let us take a bit different approach towards the walk-in styling. Designs and materials along with colors are something that can be brainstormed but many of you require tips to maintain the walk-in wardrobes.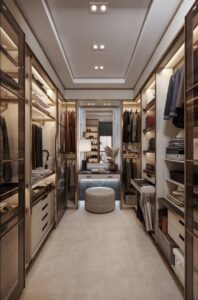 So here you can take a dip into the small yet crucial pond of strategies from an architect's point of view as it will assist you to plan and organize your wardrobe.   
Decluttering will always help, try to clean out your belonging and evaluate whether they need to be put back in your wardrobe or not. Downsizing your wardrobe will help you save the space for new belongings and will lessen your efforts in maintaining the wardrobe. 
Grouping is another way of strategically planning out your wardrobe. For example, gather your belts, long-sleeved shirts, dresses, and so on and sort them all into their groups. Then you can put these in specific assigned places. 
Walk-in closets can easily be maintained if you sort them according to the occasion. When you declutter your wardrobe you get clarity about what to keep and how can you use the same. So instead of keeping it all together, you can always sort your belongings as per the occasion you will be using the same. 
Switch a few of the components to make a better place for your walk-in wardrobe. For example, try to replace your wire holders with durable wooden holders. It will enhance the style by adding aesthetic arrangements to your closet. 
Add the elegance of the sliding wardrobe to your casa
Now after knowing about the walk-in style let us learn about the other trending wardrobe that can add refinement to your home. It will be wrong to deny that sliding wardrobes have taken over the market as they have wonderful look along with considerable functionality.
Is a sliding wardrobe better? 
The clash between sliding wardrobe styling with other wardrobe designs is evident. People have been seen to be confused when it comes to choosing the trending wardrobe design for their homes. It is because the trend of the sliding wardrobe never gets old, but the real question is along with the style do these wardrobes really offer space? Now when it comes to looks and choice based on style it depends on your personal taste but as per the space is considered then yes, sliding wardrobes are spacious. With the horizontal door setting it saves lots of space in your bedroom leaving it with a neat look. A sliding wardrobe can offer you elegant and luxurious looks with better compatibility with the surrounding. 
Which one is better the free-standing or hinged door wardrobe?
It is another question that keeps triggering your thought when choosing a modular bedroom wardrobe design. Are you also confused in choosing between a hinged door and a free-standing wardrobe? In order to make your choice, you must hold the clarity about the specifics that both of these designs offer. 
A hinged door wardrobe is suitable if you are looking to add a traditional touch to your room, It has added the perk of opening wide at a 90-degree offering a full view of the closet and enough space to locate or arrange the items easily. On the other hand, the free-standing wardrobe is the best option for someone who keeps on renovating their wardrobe style at a frequent interval of time. With this wardrobe style, you will not just get the space within but also above the wardrobe.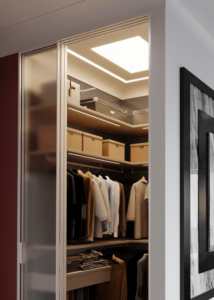 Why choose Guzel for building your customized wardrobe?
After scrolling through this blog you would have made up your mind about which design to choose. Or, at least you have the clarity about the trends that you wish to go with and now you require a stable, supportive hand to help you achieve what you dream. Guzel is here to help you with the same, we understand how tough it can be to find the modular bedroom wardrobe with the right balance between style and its practical use. 
I say, this with my experience that I have with Guzel that here, you get the expertise such as a team of architects and designers who are perfect in their field. You get a safe and versatile platform to discuss the styling of your wardrobe. The end result that you receive here will assure that all your belongings get luxurious styling along with a comfortable space. 
You can connect our team and talk about the desire that you have for your dream wardrobe. Also, free consultation for the same can be booked and you will be receiving assistance when it comes to deciding the theme.
There are different branded components that are been used for building your dream modular bedroom wardrobe as per your choice at Guzel Concepts. The texture or the material you wish to have and the color choices that you make will be provided with the best quality and perfect finish. So, why waste your precious time? All your stylish dresses and belongings deserve a lavish and spacious corner in your home. Guzel Concepts will introduce you to a whole new set of wardrobe designs according to your requirement and budget of course.