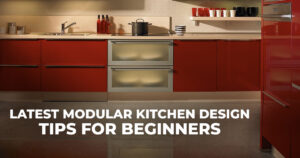 If you are new to designing kitchen interior designs in Delhi for your home, you may encounter technical terms like layouts, cabinets, pull-outs, and countertops that can be overwhelming. Are you unsure of what to consider when meeting with an interior designer or exploring the kitchen market? Here is a guide for beginners that outlines the essential factors to keep in mind while designing and planning your modular kitchens in Delhi.
Identify your Kitchen's Work Triangle
To determine your kitchen work triangle, which comprises of your refrigerator, sink, and hob, it's important to understand how these three crucial elements relate to each other in terms of location and space. A significant aspect of selecting a kitchen layout is based on this relationship. Before considering the layout, it's recommended to create a basic outline of your kitchen area.
Ideal Counter Top Height
The ideal height for a kitchen counter is typically determined by the average height of individuals in a given country. In India, the recommended height for a counter is typically between 820 mm and 860 mm, which is comfortable for most people to work at. It's important to ensure that the space between the kitchen cabinets and the countertop is not excessive because if it's too high, it could make it challenging for shorter individuals to reach the upper shelves.
Wisely Choose Colours
When selecting kitchen colors, it's important to consider the long-term maintenance required. For instance, an all-white kitchen may not be the best choice for Indian cooking as it is prone to tough stains that require consistent cleaning and high maintenance. Conversely, opting for bright hues may not be ideal either, since darker shades tend to attract more heat, especially during summers. A good compromise could be a blend of the two, maintaining a balance between the two.
Additionally, it's essential to ensure that the chosen kitchen color complements the overall home decor. Pro tip: Keep in mind the coherence of the color scheme throughout your home.
Focus on Ventilation
Adequate ventilation is crucial in the latest modular kitchen designs in Delhi as it generates a lot of heat during cooking. A chimney or exhaust fan, or both, are typically installed in most kitchens to remove frying fumes. Moreover, having a door in the kitchen that opens out to a balcony or washing area is ideal. This enables fresh air to circulate and prevent cooking smoke from accumulating inside the house.
Focus on Lighting
Having natural light streaming in through the windows is the ideal way to brighten up your kitchen. However, in the evenings and nighttime, it's crucial to have sufficient lighting in the kitchen. Overhead lighting is recommended as it illuminates the countertop where most of the work is done. Under-cabinet lights have become increasingly popular as they provide focused light directly onto the countertop.
Never Ignore Corners
Corner spaces in the kitchen are frequently overlooked when designing storage shelves and cabinets. Nevertheless, with numerous alternatives available today, it's feasible to effectively utilize these spaces. Experts from Guzel Concepts can assist in customizing your kitchen layout to maximize the available space. Since there's no such thing as having too much storage in the luxury kitchen designs in Delhi, it's crucial to make the most of every available space.