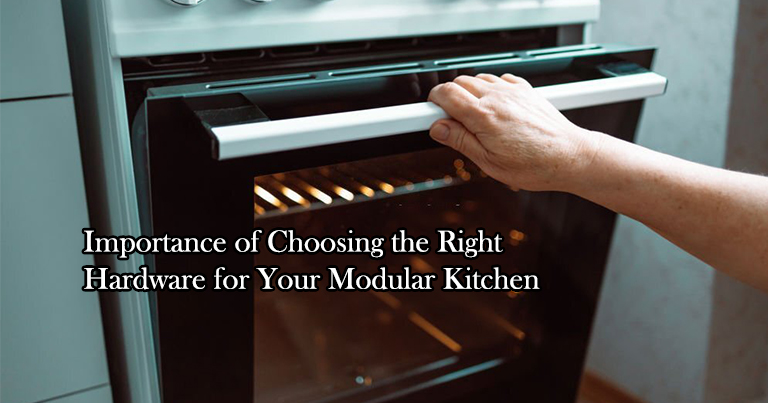 Modular kitchens have become a popular choice for modern homes, offering both style and functionality. However, to ensure that your modular kitchen is durable and functional, it's important to choose the right hardware. Hardware includes accessories such as hinges, handles, knobs, baskets, and drawers. In this blog, we'll discuss why choosing the right hardware is crucial for your modular kitchen in Delhi NCR and what factors to consider when selecting the hardware.
Also Read:- Modular Kitchens: The Need of the Hour in Indian Households
Hardware selection factors for Modular Kitchens in Delhi
Functionality
Functionality is a crucial consideration when selecting the hardware for your modular kitchen. The hardware should be able to handle the weight of the cabinet doors, drawers, and shelves. Soft-closing hinges and drawer runners are excellent options, as they offer smooth and quiet operation. They are also easy to operate, requiring minimal effort to open or close.
Durability
Luxury kitchen designs in Delhi are a long-term investment, and the hardware used in them should be able to withstand the wear and tear of everyday use. The hardware should be made of high-quality materials that are durable and resistant to corrosion and rust. Stainless steel hardware is an excellent choice as it is corrosion-resistant and easy to maintain.
Aesthetics
In addition to functionality and durability, the hardware used in a modular kitchen should be visually appealing to complement the overall design of the kitchen. It's essential to choose hardware that matches the color and style of the cabinets, drawers, and shelves. Mismatched hardware can spoil the look of a modular kitchen.
Storage Capacity
Maximizing storage capacity is an important reason to invest in quality hardware in a modular kitchen. The hardware should be designed to make the most of the available space and offer ample storage options. Pull-out drawers and baskets are excellent choices as they provide additional storage space.
Conclusion
In conclusion, choosing the right hardware is crucial for your modular kitchen in Delhi NCR. When selecting the hardware, consider factors such as functionality, durability, aesthetics, ease of installation, accessibility, storage capacity, and cost. By keeping these factors in mind, you can make an informed decision and choose the hardware that meets your requirements and budget. Additionally, if you're interested in creating a modular wardrobe to complement your modular kitchen, you may want to check out "The Psychology of a Modular Wardrobe: Guzel Concepts," a blog post by Guzel Concepts.