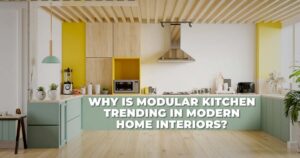 Modular Kitchens are more functional, organized, and appealing and if we talk about the word "modular" it means, made of separate modules. It's a modern & flexible way of redesigning your kitchen, with a fine combination or arrangement of the different modules like cooling module, drawer module, a corner module, shutter module, shutter with and without shelf module, vertical tower module, fridge module, dishwasher module, plate rack module, and many more.
Modular Kitchens are the perfect solution to today's modern interiors and are designed in a way to save your valuable time from cooking to focus on doing other household chores. It is sure to make your kitchen space a safe and functional investment in the happiness & health of your family.
Latest Modular Kitchen Designs in Delhi have steadily gained popularity for they come in handy and are clutter-free in nature! Everything is easily accessible. Read on to find out why modular kitchens are becoming a trendy must-have in contemporary home interiors.
Ergonomic Design
A modular kitchen helps make your kitchen environment a  great workplace for the homemaker. The ergonomic designs and the right application of all the needed items in the kitchen make it trending in home interiors. You can get them customized after selecting all the modules you need. It's designed in a way that the things in the kitchen are made easily accessible. Also, it's aesthetically so pleasing that you'll love spending time in your kitchen space while you cook or eat.
Easy to Assemble
Easy assembly is another key feature of a modular kitchen. Even the installation is easy as various components are easy to assemble, unlike old-styled kitchens. It is time-saving as most of the parts are pre-fabricated. Offering amazing flexibility, you can even plan to move to a different house, and the same kitchen can be easily ported.
Space-Saving
In a modular kitchen, there is a specific space to keep everything. There are different cabinets and shelves designed in a way that they get assembled in minimal space. From various nooks and corners, they not just fit properly but also look equally good thus, saving up a substantial amount of space.
Customization
Modular kitchens are customizable as per your necessities. You can select the combinations of shelves, racks, drawers, and other forms of hardware like handles, type of wall hangings drawers and cabinets sizes, and much more.
This selection should be made depending upon the lifestyle, for instance, the need for more space to store and display cutlery should have more shelves. Likewise if you need to keep more vegetables and fruits then there should be sufficient air circulation, and so on. Opt for modules, as per your needs and requirements. Also, depending upon your space availability, get them designed in your preferable shape- L-Shape, U-shape, Parallel, or Island.
Visual Appeal
Forms and function should go hand in hand and this applies to Luxury Kitchen Designs in Delhi as well. Available in a plethora of contemporary, elegant, and chic designs to choose from, ensure that your modular kitchen design complements the existing home interior. Also, choose sleek and modern designs to align with your desires & needs.
You can further mix and match different colors and textures to enhance your kitchen's look. Coming to the finishes, choose from high gloss & matte finishes, to make your space look gorgeous and trendy.
Easy Maintenance
Unlike traditional kitchens, modern kitchens require minimum maintenance. No more constant smudges, dirt, and stains to hamper the whole beauty. Even in cases of accidental spills and stains, these stains & smudges are easy to wipe off with a cloth.
What else do you really need? Transform the way your home and kitchen look with the Latest Modular Kitchen Designs in Delhi by Guzel Concepts!