Not long ago the kitchen was deemed as the place which was meant just for preparing food. But as time passed it attained a distinct value and it is because people have stopped considering cooking merely a duty to live on. Rather people have started believing that cooking is an art and have relinquished themselves in various experiments with edible materials. The kitchen is instantly related to hygiene and so it has to be cleaned but many of you are not just satisfied with the hygiene. 
Rendering to psychology when people ponder something as a passion they yearn to work with every right equipment related to the same. The aura or the vibe of the surroundings does support the best outcome from that given passion. So people who love or appreciate the skill of cooking do have the mindset of having a perfect modular kitchen. People are seen spending lots of money just to avail the finest design for their kitchen. You can always take pride in designing your kitchen in the trending style with the impeccable material as per your choice.  
Here through this blog we will be trying to introduce you to some of the latest styles for kitchen and you will also get to know a few expert tips about how you can think of modifying your modular kitchen, so let's get started.
Expert Says: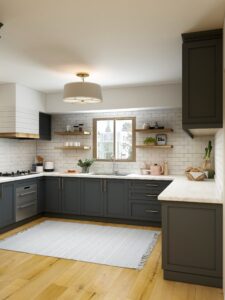 The hard-earned money should not be wasted and so shaping your dream kitchen is a responsible decision that you take. Every factor is vital to be considered before you start investing in any product or designer. Before we go further, signifying you some of latest trending kitchen designs, here you can scan down few general yet significant tips. These are given out by the kitchen designing experts from Guzel Concepts, they think that you must consider these tips before styling your modular kitchen. 
You will not deny that the kitchen is the heart of the home which is connected to each family member in one way or the other. If you wish to renovate or newly build your kitchen planning is very crucial. As it is a bit intimidating project so it cannot be done in hurry else the result cannot be according to your need. So the question "where to start?" hits your mind. After going through these tips you will be able to comprehend a bit well, and then can lay the foundation of your dream modular kitchen. 
After going through these tips we are sure that you would have started paving the path on which you would like to see yourself walking and building the kitchen that you desire.
Now let us discuss the tips:
In the concrete jungle that we live in, there is plenty of new styles and designs that one can see, so in order to own something impressive every factor has to be unique. Uniqueness is been born when one starts altering their choices over every element that has to be used. 
Keep your focus on the area that attracts most of the attention. For example when you enter the kitchen what is the first thing that you notice or want others to notice. By considering this and keeping the center of your kitchen design you will be able to figure best components that you want in your kitchen.
The third tip in this list will suggest you consider the workflow that you have to do within your kitchen. The appliances that have to be used, the cabinets that have to be befitted into the kitchen everything must be taken into account. It will help in enhancing the design and making it one of its kind.
Another tip given out by the kitchen designers is to plan the new space that has to be created. Observing the present space and then making sure that the new space won't hinder the old space negatively will always be a thoughtful way of thinking about the modular kitchen design for your casa. 
The tips revealed above will not just bid you the superlative insight about designing your modular kitchen but also let you analyze your requirement and establish your idea with your designers. When you work according to these and many other tips you evoke your imagination and your emotions toward your dream kitchen. The choices of materials that you want there in your kitchen or the color you would like to add along with the texture and much more will get enhanced.
Things that will convert your dream kitchen into reality
Moving forward now when you have learned about some crucial tips and tricks that you should consider let us talk about the portions that also require your attention. We will be giving you a brief ride about the 4 major areas that you must consider before you choose any style or design for your modular kitchen. 


Minimizing the visual impact of appliances in your design: It is factual that a kitchen is a place where multiple appliances are been used. And there are times when these appliances cover the major space within the kitchen and the design or style of the space does not get a chance to come out. So you need to make your choice in a way that prevents the appliances from eating up the entire design. Such sleek designs need to be practical enough so that appliances can be used with the proper space they require and also fall in the lavish design set. The theme that you choose for your brands should be clean when it comes to the integration of kitchen appliances.
Make choice for your cabinets: Other vital elements that enrich your kitchen are the cabinets and so they must be first on your list when you consider any design for your dream modular kitchen. Renovating or building a new kitchen choosing perfect cabinets will help you customize the rest of your kitchen easily. There are different options available for the cabinets which are fashionable and laced with luxurious designs and frames. Tile cabinets, Lamination of the cabinets, installing wall-mounted shelves, etc. are some of the designs that you can consider for your kitchen cabinets. Storage merged with design is something that you should receive when thinking of the cabinets. 
Style the splash you need: Aren't you forgetting something? One of the most crucial components within the kitchen without which you will find a void in your kitchen is the sink.  When you think of upgrading your kitchen do choose the faucets, bowl, and hardware related to the same as per the theme. The designs of the faucets and the bowls should be matching your lavish styling but also should be durable and reliable for the long run. For example, brushed nickel is one of the demanded designs that people opt for because of its durability and can be befitted in several designs.  
Countertops can't be ignored: Chopping, dicing, mixing, and preparing ingredients for your recipes require a spacious kitchen countertop. The countertops used within the kitchen must possess the quality of getting clean easily and they must be durable. The finish of the kitchen should be up to the mark and must compliment your kitchen altogether. Some of the top choices that you get with the countertops are granite, stone, quartz, etc. You can choose the texture and color as per the taste and the theme of your kitchen.  
Desiring your dream modular kitchen, then think Guzel

The designers or experts in the styling of kitchens at Guzel Concepts say that " Ideally the kitchen that you have must be elegant and should offer maximum functionality" With this motive, you will be offered the best of the latest and trending designs that you can choose for your kitchen. You need to choose the layouts such as U-shaped or I-shaped kitchen as per the space allows you at your home and this requires the perspective of the expert which Guzel will be providing you. For more details, you can always book free consultation from our website https://www.guzelconcepts.com/  and/or explore our Modular Kitchen section https://www.guzelconcepts.com/modular-kitchen